Available Now from Angry Robot Books
When dragons rise from the earth, firefighters are humanity's last line of defence, in this wild near-future fantasy.

Firefighter Cole Brannigan is on the verge of retirement after 30 years on the job, and a decade fighting dragons. But during his final fire call, he discovers he's immune to dragon smoke. It's such a rare power that he's immediately conscripted into the elite dragon-fighting force known as the Smoke Eaters. Retirement cancelled, Brannigan is re-assigned as a lowly rookie, chafing under his superiors. So when he discovers a plot to take over the city's government, he takes matters into his own hands. With hundreds of innocent civilians in the crosshairs, it's up to Brannigan and his fellow Smoke Eaters to repel the dragon menace.
Available Now from Angry Robot Books
A floating prison is home to Earth's unwanted people, where they are forgotten... but not yet dead, in this wild science fiction adventure

Deep space penal colony Oubliette, population: scum. Lena "Horror" Horowitz leads the Daughters of Forgotten Light, one of three vicious gangs fighting for survival on Oubliette. Their fragile truce is shaken when a new shipment arrives from Earth carrying a fresh batch of prisoners and supplies to squabble over. But the delivery includes two new surprises: a drone, and a baby. Earth Senator Linda Dolfuse wants evidence of the bloodthirsty gangs to justify the government finally eradicating the wasters dumped on Oubliette. There's only one problem: the baby in the drone's video may be hers.
Available Now from Angry Robot Books
It's dragons vs firefighters vs the Phoenix in the scorching fantasy sequel to Smoke Eaters.

With ex-firefighter Cole Brannigan in command of the Smoke Eaters, the dragon menace is under control. Thanks to non-lethal Canadian tech, the beasts are just tranquilized and locked up. But for Tamerica Williams, a job filled with action and danger has become routine. She's so bored she nearly gets her whole team killed, and Brannigan has to step in. When a new threat emerges, the legendary bird of fire – the Phoenix – spreading fire like a plague and whipping dragons into a frenzy, it's a perfect task for Williams, but killing the Phoenix just brings it back stronger. Is that too much excitement, even for Williams?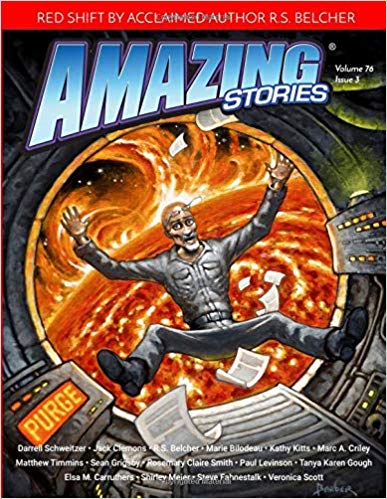 Amazing Stories Spring 2019: Volume 76 Issue 3
Featuring my story, A Swift Drop; Two Bits